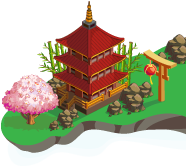 Asia Treasures are collections found on the Asian Isles. These collections are listed on the Asia tab on the game collections page. They are as follow:
*Uses the same images of Necklace Making Set from Mayan but is a different set
*This collection have a foreign piece, Knight from Tin Soldiers, when trading in this piece is consumed as a normal collectible.
Silk
Locations
Uncommon    2500 gold     60
Ad blocker interference detected!
Wikia is a free-to-use site that makes money from advertising. We have a modified experience for viewers using ad blockers

Wikia is not accessible if you've made further modifications. Remove the custom ad blocker rule(s) and the page will load as expected.