Fruit Crate is one of a series of pop-ups that awards an item or decoration, in this case Fruit. You may also share your reward with your Neighbors via the News Feed. The Fruit Crate pop-up is found by Digging or by using the Wishing Well.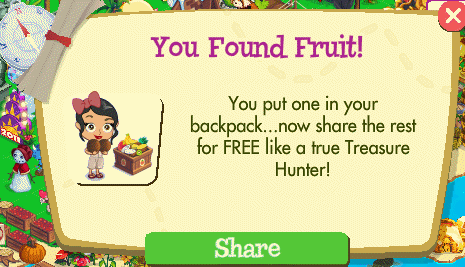 The pop-up reads, "You put one in your backpack...now share the rest for FREE like a true Treasure Hunter!". By clicking on the "Share" button, you share a small set number of a random Fruit on your News Feed. Anyone who can see that post can collect a Fruit.
Explorer discovered a Fruit Crate in Treasure Isle!

Eating fruit helps us to dig up loot! There are only a few left, so Explorer is sharing the crate with anyone who just can't wait!
Fruit commonly found in a Fruit Crate includes
Ad blocker interference detected!
Wikia is a free-to-use site that makes money from advertising. We have a modified experience for viewers using ad blockers

Wikia is not accessible if you've made further modifications. Remove the custom ad blocker rule(s) and the page will load as expected.