The Royal Chest is a Rare item that can be found by Digging or using the Wishing Well. It is actually found inside the Charming Chest, which is in turn found inside the Rugged Chest.
How To Open It
Edit
Chests you have found will be located in your Backpack. The Royal Chest requires three Blue Chest Keys to open. When you first find the chest, you will be asked to either "Open Chest!" or to "Ask For Keys" from your Neighbors. Blue Chest Keys can also be purchased at the Store.

Open a blue locked chest!

3
Blue Chest Keys can also be found inside the Rugged Chest and probably the Charming Chest.
Royal Chests contain a large variety of items, mostly uncommon and common, but contain better prizes than the Charming Chest. Common reported prizes include the various Golden Fruit, Passionfruit and Dragonfruit, all in bundles of 2-8 Fruits. Other prizes include Rare Collection items from the Exceptional Vessels collection.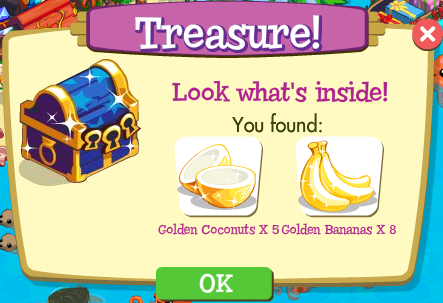 Post in the comments below what YOU have found in the Royal Chest!
Ad blocker interference detected!
Wikia is a free-to-use site that makes money from advertising. We have a modified experience for viewers using ad blockers

Wikia is not accessible if you've made further modifications. Remove the custom ad blocker rule(s) and the page will load as expected.